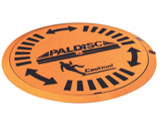 The Pal-Disc Pallet Turntable is a free-rotating turntable for loads of up to 2,000kg, and has a ramped edge for easy pallet truck loading. The turntable has a wide range of industrial uses including the automotive & engineering industries, animal feeds, grain silos, aggregates and general warehousing.
Virtually Maintenance Free
One of the most impressive aspects of the turntable is the fact that it is virtually maintenance free. It is suitable for use in 'harsh' environments where there might be high levels of dust and grime – such as the aggregates and animal feed industries. It has a brush strip on the inner age which can prevent some of the worse aspects of a dirty environment.
Although the Pal-Disc Pallet Turntable is not specifically designed to be used outdoors, it can and is used by some businesses externally. The manufacturer would however recommend carefully monitoring it and ensuring it is kept well lubricated when used outdoors. It can also be used at cold temperatures in facilities like cold food stores and warehouses.
Unique Low Profile
Perhaps the strongest selling point of the Pal-Disc Pallet Turntable is its very low profile at just 22mm. According to the manufacturer it is,
"The lowest profile pallet turntable currently on the market and the only one that can be used
with a hand pallet truck without requiring a long ramp"
The next lowest pallet turntable has a height of 60mm – which is quite a step up from a sleek 22mm!
Other features
Other notable features of the Pal-Disc Pallet Turntable is a special lock that prevents accidental rotation and a removable lug for fork lifting. For the full specifications see our product page and make sure to view our video which demonstrates how it can be used.
The Workplace Depot also sells the Pallet Pal Level Loader which is the only power-free automatic level loader on the market. It is designed to maintain the top of the pallet load at a comfortable working height for the operator thereby reducing injuries associated with loading pallets at the floor level.
Made in the UK
It is great to hear that both the Pal-Disc Pallet Turntable and Pallet Pal Level Loader are made in the UK. The manufacturer has confirmed to us that it is not just a case of it being assembled here but that all the component parts are manufactured in the UK as well.
Although the Pal-Disc Pallet Turntable comes in one size (1240Dia mm, 1100mm turntable) it is possible to have them specially made in a larger or small diameter, but the weight limit cannot exceed 2,000kg.
---
Posted in News, Product Updates, Expert Commentary