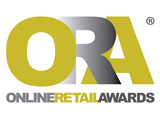 The Workplace Depot have done it again, for the second year running, we have won the Online Retail Award in the 'Office and Workplace Supplies' category!
Over 50 companies including the likes of: Halfords, Littlewoods, RAC, Vodafone and Very.co.uk turned up to this event, in the hope to take home an award, some of them not being as lucky as The Workplace Depot, we were nominated for: 'Office and Workplace Supplies' and 'Small Size Online Retailer Site of the Year'.  Unfortunately we only took home the one award, however we can't be greedy and there's always next year!  Four members of our web team had the honour of attending the event and collecting the award on the night, Richard Bloomfield Website Editor for The Workplace Depot, who attended both the 2014 and 2013 awards added:
"It is an amazing achievement to win the award for the Office and Workplace Supplies category in two consecutive years.  The judges seemed particularly impressed with the giant steps we had made in sales growth as well as improvements in optimising online conversions."
The Online Retail Awards are prestigious awards aimed at those retailers who offer nothing less than the best shopping experience for their customers.  To read more about these awards and also our experience last year, click here.
About the Award Ceremony
The Award Ceremony took place at the Royal Garden Hotel, Kensington, London on Tuesday 16th September 2014.  The Workplace Depot were in amongst some of the biggest names in the online retail world.  On the night, there was 15 online retail category awards and 8 special achievement awards.
The ceremony was hosted by comedian; Sean Collins and journalist/broadcaster; Kate Russell.  Sean is brilliant at what he does (definitely made us laugh at the awards night), known for appearances at Edinburgh Festival shows as well as Michael McIntyre's Comedy Roadshow.  Kate started writing about technology in 1995, she is known for her appears on BBC2's technology programme Click, as well as appearing on numerous shows reviewing tech.  The event was sponsored by SLI Systems, WN Direct, The App Garden and Postcode Anywhere.  You can read more about how The Workplace Depot improved their ecommerce conversions on the Postcode Anywhere website.  Finally the announcer for the evening's awards was none other than Alan Dedicoat, better known as the "Voice of the Balls" on the National Lottery.
Overall the evening was a great success for The Workplace Depot, winning 2 years in a row, growing from strength to strength in the hope to do the best for our customers.  Hopefully we can do even better next year!
Images
Click on the images to enlarge:
---
Posted in News, Press Release, Awards & Accreditations