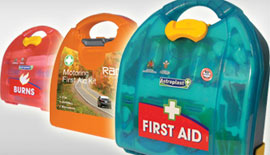 Regardless of how much you guard against the, accidents can still happen. That's why it's important to have a well-stocked first aid kit in your office or workplace to attend to accidental injuries or medical emergencies immediately after they happen. The NHS suggests that your basic first-aid kit should contain the following items:
Basic first aid kit
- Plasters: The numbers and sizes are not specified, but you should have a variety of shapes and sizes.
- Gauzes: Your basic first-aid kit should have small, medium and large sterile gauze dressings.
- Eye Dressings: At least two sterile eye dressings are recommended.
- Crêpe Bandages: These would be used to apply pressure, dissipate swelling, restrict movement, or hold the splint in place.
- Safety Pins: Carry a number of them in different sizes to hold small, medium and large dressings in place.
- Disposable Sterile Gloves: Store 2 or more pairs of these. The British Standard 8599-1 requires use of nitrile gloves for workplace first-aid kits.
- Tweezers
- Scissors
- Alcohol-free Cleansing Wipes
- Sticky Tape
- Digital Thermometer
- Skin Rash Cream: This can be a cream containing hydrocortisone or calendula.
- Insect Bite Cream
- Antiseptic Cream
- Painkillers: Consult your doctor to get the right pain-killers for adults and kids. Paracetamol and ibuprofen are usually considered safe.
- Distilled water, for cleaning wounds and/or eyes
Workplace First Aid Kits
British Standard 8599-1 made certain changes and addition to the items requirements for a workplace first aid kit. Apart from the nitrile gloves mentioned above, the new Standards now require inclusion of the following items.
 - Small absorbent dressings for finger wounds
- Tearable non-woven, hypoallergenic adhesive tape to secure bandages
- Water-based sterile gel burn dressings
- Resuscitation face shield to provide a protective barrier for first aiders when administering mouth-to-mouth resuscitation
- Use of adhesive tapes instead of safety pins for securing dressings
​Workplace-Specific First Aid Kits
Apart from the standard items mentioned above, different work sites pose risks for different types of injuries. Let's take a quick look at some of the industries and workplaces and see what variations should be made to the basic first aid kit.
Catering First Aid Kit: Catering involves cooking and handling hot food. Fire, boiling water or oil can cause burns, so your catering first aid kit should include plenty of burn cream and dressing. It's also advisable to store a fire blanket.
First Aid Kits for Construction Sites: Construction worksites are prone to mild to severe trauma injuries. Injuries caused by falling objects, hammers, cutting instruments or other construction machinery can occur suddenly. Construction firms are required to have certain number of trained first aid crews on their workforce to administer first aid procedures in case of severe injuries. Construction sites should store more pressure dressings, splints, crepe bandages, and splints.
Sports First Aid Kit: Football, rugby, ice-hockey, and other action sports often cause severe injuries to players. Make sure you have your sports first aid kit with you beside your playing gear. The sports first aid kit should include pain relief sprays, pressure dressings, splints, bandages, crepe bandages, and antiseptic cream or pyodine for cleaning cuts and wounds.
Vehicle First Aid Kit: The British Standard requires all commercial transports to carry a fully stocked first aid kit. The kit should be clearly marked and readily accessible. A transport first aid kit should have all the standards items, but should be compact and portable.
All first aid kits are recommended to include a "how to use" leaflet or booklet. You and your employees should know how to use different items, which dressing to apply to what injury, how to deliver CPR, and other first aid basics.
---
Posted in Health and Safety