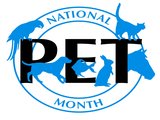 April is National Pet Month! Whether you have a deep love of dogs, cats, a passion for birds, a fascination with reptiles, or compassion for rodents, your pets are all important. Pet ownership has many benefits to health and happiness for you and your family. Learn about those benefits and how to celebrate every wonderful thing about your pets.
Fur, Scales, Feathers, and Love
Pets come in all shapes and sizes and National Pet Month is about honouring all pets, not just cats and dogs. The right pet for you might not be the right match for someone else and this is an important thing to remember before you gift a pet to anyone. If you're planning to give someone a pet, even your child or family member, consider not only the benefits and love they will receive from the experience but also the time and commitment they'll be able to realistically devote to the animal. This way, you'll be giving them every bit of love they hoped to receive by owning a pet.
The Healing Power of Creature Comfort
Many people know the happiness that comes with holding a squirming puppy or playing with a cute and cuddly kitten, but there are even more ways that pets can heal the heart, body, and mind. During National Pet Month, celebrate these benefits and teach others about how pets can:
Help balance a chaotic routine

Increase exercise frequency and make it more enjoyable

Lower blood pressure

Calm anxiety

Relieve stress

Balance moods, including depression and loneliness

Improve self esteem

Encourage autonomy in children
Of course, it's easy to see how these things may work with cats and dogs, but taking care of a reptile, bird, rodent, or other creatures can induce the comfort and happiness that brings about these benefits, and more.
Pets Make a Happier Workplace
National Pet Month isn't only about celebrating pets at home, but also encouraging pets to participate in the workplace. Police stations, fire stations, and the military have used dogs in their work for many years with a lot of success. Nursing homes and other care facilities use pet therapy on many occasions and pets have been trained to help the disabled in all kinds of ways. These instances are the living proof that pets are excellent additions to the workplace. Whether you add an aquarium to your office lobby or encourage employees to bring their pets to work, you'll see that many of the same benefits of pet ownership at home apply to pets in the workplace as well. Talk to your employer about celebrating National Pet Month and letting employees keep pets at the workplace all year round.
---
Posted in News