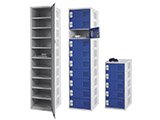 There's nothing worse than being on your phone, laptop or tablet and it running out of battery! Whether you are at work, school or the gym, laptop charging lockers are a revelation for those of us who are always on the go and might not be at home long enough to get a fully powered battery on our electronic devices.
Considering technology plays a huge part in our lives today, the majority of people need and depend on devices such as mobile phones and laptops in order to carry out work and personal duties, even when they are on the go.
Millions of businesses today use laptops, and keeping them safe and secure from damage should be a top priority. It should be a great comfort knowing that day or night you can leave your laptop with the peace of mind that when you return it will be there and ready for action; with our secure laptop lockers, you can keep your laptops safe when not in use.
Our laptop lockers for charging and storing of laptop computers are ideal for IT departments, office environments and even schools. Each of our laptop lockers can provide optimum security against laptop theft and are robust and durable enough to cope with even the most testing of environments.
Liven up your Laptop
Our range of laptop lockers includes: laptop charging units; with the ability to charge laptops, iPads and other electronic devices, each compartment is fitted with a 3-pin socket and perforated sides and doors to help prevent heat build-up. These lockers can be purchased with up to 10 doors, making them ideal for teaching establishments, where a lot of devices would be required.
We also supply personal item charging lockers, designed for areas such as workplaces so that employees can store their personal belongings as well as charge any electronic devices they might need to. These would also be useful within gyms in order to provide a secure place for those wanting to leave their belongings whilst charging electronics simultaneously.
Finally our tool charging lockers are specifically to cater for charging tool batteries and other electronic devices, therefore may be useful to locate in warehouse/industrial business offices or garages.
Depending upon your establishment and requirements, along with three different types of laptop charging lockers, they can also be purchased in a variety of colours, with a varied number of doors and overall sizes. As a result of this, whatever amount of doors you might choose to have on your lockers, each one is secure and lockable for extra reliability and dependability.
With this in mind, presented on our locker pages, we have an easy to order chooser feature to save you scrolling through various shapes and sizes, whichever preferences you select, our chooser will then display the various options available after the initial selection. You can then add this to your basket and continue to make variations and additions until you have all the lockers you desire! To test out this feature, click here.
Having said this, although looks aren't everything when it comes to lockers, it is still a good starting point! The frames or carcases over our selection of laptop charging lockers are grey. Therefore having different colour doors not only looks attractive but also helps people remember their particular locker as opposed to rows of identical coloured lockers with perhaps numbers on them.
What's more, metal lockers such as the laptop charging lockers are generally seen as robust, vandal-proof and difficult to break into. They are less likely to be used in wet areas than plastic versions although steel construction lockers shouldn't rust, however you wouldn't normally associate laptop charging lockers with a wet area; that would be a recipe for disaster!
As well as our laptop charging lockers, we also stock a range of other lockers suitable for a number of establishments, also available in a variety of colours and sizes.
It's important for organisations and schools in particular to understand the importance of lockers within their institutions as a substantial safety method to have in place, in order to reassurance students and staff members alike that they have a safe place to store valuable possessions.
---
Posted in Product Updates