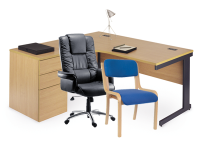 Not many offices have the luxury of open spaces, especially if a large number of staff are working in a small space.
One of the problems with not having a large office is the storage space, whether it would be for personal or department use. You are given a desk to work at and no personal storage or space. Although it is important to consider the available space in the office, you need to ensure that the needs of your staff are met otherwise productivity could be reduced.
When kitting out an office, think about what are the most important aspects:
- The staff
- Space
- Making it look professional
Let's start with the basics – desks. The type of desk you choose will be the star of the show – so to speak. They take up most of the space but they have to look great. Depending on your preference you can have wooden or plastic desks. In this case, we are going to choose wooden desks because they are stylish, professional and add a lot more light to the room. The Impact Rectangular Cantilever Leg Desk comes in five widths and three colours – beech/silver, maple/silver and oak/silver. They are designed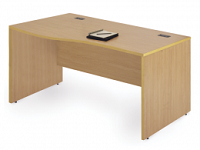 to enable easy planning and optimum use of office space as well as looking great!
If your not a fan of metal and wooden desks then maybe the Impact Rectangular/Wave Panel range is for you. The panel range such as the Impact Wave Panel End Desk, have 3 matching panel sides completely made of wood. This desk is more traditional than the Cantilever Leg Desk but can be used as reception desks as well. The Impact Wave collection is different to the straight edged desks because the Wave desks offer employees to sit comfortably at a desk due to the wave that has been cut in the desk.
If you thinking of putting all the desks together as a circle or a rectangle, you will need to provide your staff with their own privacy and space. Desktop Office Screens are the perfect solution for this. They are available in a range of colour to match the décor and you have the choice of a straight top or wave top. You can choose the right size to suit the desk e.g. either 400/500mm high and 800/1200/1600mm wide.
It would be back breaking if we didn't have a chair to sit on whilst at work. But with the staff in mind, what chair do you pick to add to the desk. You can either choose a chair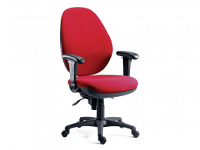 that suits everyone's needs such as the Syncrotek Office Chair. This chair has a seat slide function, ratchet back height adjustment, gas lift height adjustment and is available with or without arms. The option to adjustment the chair and to have arm rests will be perfect to meet every member of the team's requirements.
However, some employees may have additional requirements if they have back, neck or leg problems. If a member of staff would rather have leg/knee support rather than back support, the Kneeling Office Chair would be ideal for supporting the knee area when sat down.
If your higher up in the ranks of the office, you will probably need a chair to represent that, something like the Lombard Office Chair. The thick black leather chair offers lower back support with the wide 'gull wing' padded armrests. All you need now is a fluffy white cat.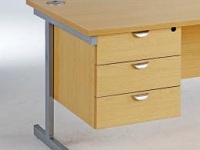 We have the desks, the screens and the chairs, but we are still missing the personal storage space. Most of the desks will be able to fit a pedestal underneath, depending on the type of pedestal. The Fraction Desks can come fitted or can be self fitted with a pedestal. Or you can have a pedestal on wheels or self-standing so they can be moved when ever you want. If you do happen to want a pedestal as a storage space, you can choose from colours that match the desk colour and you can have a choice between 2 or 3 drawers of metal roller runners.
Looks like we have everything we need. It is up to you now to add a few plants, art work and posters to add some life and colour to the office. But remember to keep the main office walkways clear and safe so there no accidents involving tripping over objects and wires. If wires do happen to be across the floor, always use a cable protector to prevent are trips and falls.
To view our entire office range click here
---