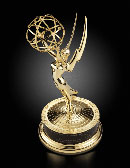 This weekend saw the ceremony of the 65th annual Primetime Emmy awards take place in Los Angeles. The award ceremony was full of the obligatory tears and thrills of acceptance speeches, some dodgy red carpet fashions and the trying-to-look-pleased faces of the losing nominees making a classic American award ceremony.
The Emmys started out as a regional ceremony that commended works of television from just the Los Angeles area. In 1950, the awards went nation-wide and were broadcast to television networks all over the USA. The award itself is a golden figure of a winged woman, and after much deliberation the statuette was given the name "Emmy".
There were a number of famous names amongst this year's winners. The American crime drama Breaking Bad picked up the award for best drama series, and actress Anna Gunn was awarded best supporting actress for her role in the series. The honour of receiving best actor went to Jeff Daniels for his role as TV anchor Will McAvoy in the political drama series The Newsroom. The corresponding female honour went to the Homeland actress Claire Danes.
However the night was a disaster for the British invasion state-side. The hit British series Downton Abbey did not live up to its success across the pond in the UK. Michelle Dockery, Hugh Bonneville, Maggie Smith and Downton writer Julian Fellows were all nominated for awards, but unfortunately they failed to win their categories. Another Brit who missed out was Homeland's Damien Lewis who was beaten by Jeff Daniels in the best actor category.
But there were several Brits who made an impact on the American award ceremony. Downton Abbey star Michelle Dockery turned heads on the red carpet in an orange top and purple skirt by Prada. Similarly, Cat Deeley dazzled on the red carpet in a sparkling, black backless gown with her husband Patrick Kielty. One British award winner was writer Abi Morgan, who won the category for outstanding writing for a miniseries, movie or dramatic special for the BBC programme The Hour. Elton John also performed a new song as part of the in-show entertainment.
Overall, it was not a great night for British television, but many of the big American names scooped the main awards but it was definitely a British night on the red carpet.
Hosting an event? Give your event that extra red carpet edge with some of our VIP and Executive Rope Barriers.
---
Posted in News