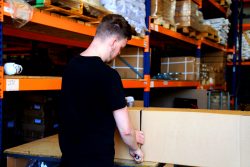 Our most recent apprentice, Anthony, has impressed our warehouse team and been offered a full time position. Here's what he had to say about his time at The Workplace Depot so far.
Anthony joined our team in April 2017 when he began his Warehouse and Logistics Apprenticeship. He recently began his full time role that he was offered shortly after completing the apprenticeship.
"I've really enjoyed my apprenticeship experience, and I'm pleased that it's lead to a full time position in the warehouse. Completing an apprenticeship has enabled me to continuously learn new skills and quickly get to practise them in my daily tasks.
I'd definitely recommend this apprenticeship, it's an active job that has allowed me to have a detailed understanding of the business. I think apprenticeships are a fantastic way to get young people into employment, plus it ensures businesses have employees that have undergone the best possible training and have the skills needed to be successful in their role."
---