Mobile Warehouse Steps
£585.04
Ex. VAT
£702.05
Inc. VAT
£702.05
Inc. VAT
£585.04
Ex. VAT
FREE DELIVERY
Free Delivery -
40-60 working days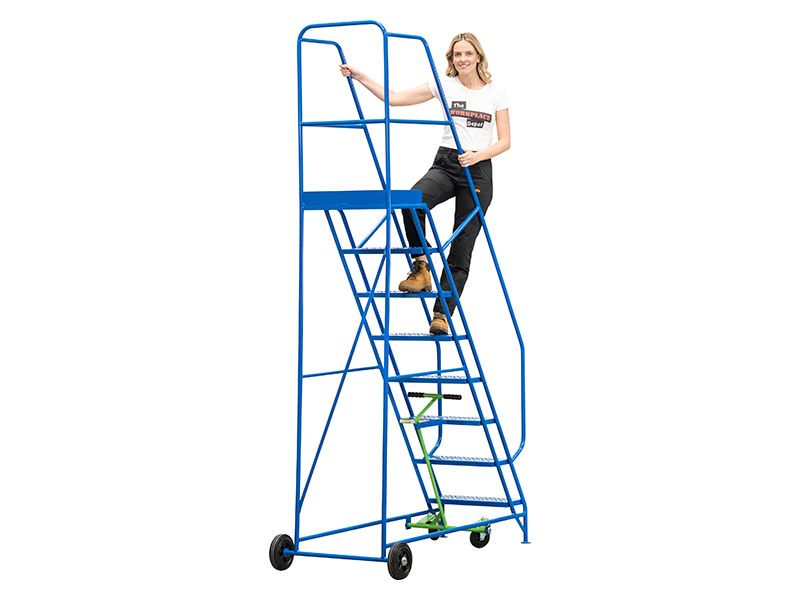 View All Safety Steps
Secure Ascent, Seamless Movement
Step Up with Confidence: Experience the Mobile Warehouse Steps, the ultimate solution for safe and elevated work in retail, warehouses, and industrial settings.
Robust Construction: Crafted from rugged tubular steel, this ladder features an all-welded framework for unmatched durability and long-term use in demanding environments.
Elevated Accessibility: Reach new heights safely with a 2000mm high platform, delivering a substantial working height of approximately 3500mm for extensive vertical coverage.
Heavy-Duty Performance: Confidently bear loads up to 300kg, with our platform rigorously load tested to ensure stability and safety at considerable heights.
Lock-In Stability: Secure your work position with a hand-operated locking mechanism, designed for firm placement and peace of mind during any task.
Handrail Support: Navigate upwards with ease, thanks to handrails on either side of the ladder, allowing secure, one-handed access for additional safety.
Smart Tread Design: Work in any weather without worry, as the eight punched steel treads offer optimal water drainage and reduce slip hazards effectively.
Mobility Mastered: Effortlessly position the ladder across different terrains with two robust, integrated 200 x 50mm wheels, ensuring smooth relocation.
Spacious & Safe: Measuring 3000(H) x 850(W) x 1575(L) mm, the Mobile Warehouse Steps provide a broad and stable platform, with safety at every level.

Elevate Your Workspaces
In the bustling arenas of modern workspaces, the Mobile Warehouse Steps emerge as a beacon of strength, safety, and sophistication. Crafted with precision from rugged tubular steel, these steps are more than just an instrument; they are a commitment to enhancing operational efficacy without compromising safety.
Every feature of the Mobile Warehouse Steps, from its impressive height capability to its mobility-focused design, echoes a singular mantra: to ensure a seamless blend of functionality and safety. Whether manoeuvring in the tight corners of a stock room or scaling heights in vast warehouses, experience a newfound confidence in every step.
Strength in Structure
When it comes to reliability, the Mobile Warehouse Steps stand out with an unyielding core. Constructed from rugged tubular steel, these steps promise unmatched sturdiness, ready to withstand the daily rigours of busy industrial environments. This robust material ensures that every movement is supported, every task executed with confidence.
But it's not just about the material; it's how it's crafted. The all-welded framework is a testament to meticulous engineering, providing an extra layer of stability and durability. This seamless fusion process ensures that the steps remain steadfast, offering longevity and an unwavering commitment to the safety of its users. Whether navigating daily tasks or enduring heavy loads, trust in the unwavering strength of our design.


A Platform Designed to Elevate Your Reach
The Mobile Warehouse Steps aren't just any standard set of steps. With a 2000mm high platform, they effortlessly transport users to a commanding working height of approximately 3500mm. This elevation is more than numbers; it's an avenue for users to access previously challenging heights, ensuring no task remains out of grasp.
This optimal height ensures a broader perspective, enabling efficient access to tall storage units, shelves, or machinery. It's a blend of intelligent design and practicality, ensuring that every user feels empowered, confident, and secure in their environment. Dive into tasks with the assurance that the Mobile Warehouse Steps will quite literally elevate your working experience.

Overall Dimensions
| | | |
| --- | --- | --- |
| | OVERALL HEIGHT | 3000 mm |
| | OVERALL WIDTH | 850 mm |
| | OVERALL LENGTH | 1575 mm |
| | TREAD WIDTH | 550 mm |
| | PLATFORM HEIGHT | 2000 mm |
| | PLATFORM WIDTH | 550 mm |
| | PLATFORM LENGTH | 400 mm |
| | WEIGHT | 73 kg |
Unwavering Support
Strength isn't just about construction; it's about enduring capacity. The Mobile Warehouse Steps confidently bear the weight of tasks – quite literally. With a platform that's load tested to support a substantial 300kg, these steps are more than just a tool; they're a dependable ally in every undertaking.
In demanding industrial environments, the weight-bearing capacity is paramount. Whether it's stacking heavy inventory, using weighty tools, or supporting multiple individuals, the platform's robustness ensures that operations proceed without a hitch. It's not just about holding weight; it's about fostering trust, ensuring that when you step up, you do so with the assurance of unwavering support beneath you.


A Steady Stand Every Time
In the world of work, stability isn't just a luxury; it's a necessity. The Mobile Warehouse Steps understand this to the core. Thanks to the hand-operated locking mechanism, once positioned, this unit promises to stay anchored firmly in place, eliminating concerns of any unwanted movement or shift.
This feature isn't just about mechanics; it's about peace of mind. Whether you're ascending, descending, or standing stationary to carry out a task, the knowledge that your steps are locked securely provides confidence in every action. It's a subtle reminder that with the Mobile Warehouse Steps, you're always in safe hands, even when you're feet above the ground.
Safety Within Arm's Reach
In the dance of day-to-day tasks, sometimes one hand is all you have to spare. Recognising this, the Mobile Warehouse Steps are thoughtfully equipped with hand rails on both sides, ensuring that even when one hand is occupied, stability is never compromised. It's a design choice that speaks of understanding real-world challenges.
Beyond just support, these hand rails are a testament to prioritised safety. They serve as reliable guides for users, allowing for secure ascents and descents. In bustling environments where quick access and safety go hand-in-hand, these rails ensure that each step, whether up or down, is taken with utmost confidence and security.


Drainage Redefined
Every detail of the Mobile Warehouse Steps is designed with precision and practicality in mind. Among these is the innovative inclusion of eight punched steel treads, meticulously crafted to permit water drainage. This means that rain or spillages no longer pose a slipping threat, ensuring that each step taken is on dry, secure ground.
In environments where water contact is inevitable, be it from cleaning or unexpected spillages, these drainage-friendly treads are a game-changer. They not only bolster safety by reducing slip hazards but also signify a product that's attuned to the intricate challenges of diverse workplaces. With these steps, it's not just about reaching heights; it's about ensuring each ascent and descent is safe and sound.
Mobility Made Effortless
In dynamic workspaces, adaptability and mobility are paramount. Recognising this need, the Mobile Warehouse Steps come equipped with two integrated 200 x 50mm wheels, enabling seamless transitions from one location to another. This ensures that when the job shifts, your trusted steps can move right alongside you without any hassle.
But it's not just about movement; it's about ease and efficiency. These strategically sized wheels have been designed to glide over various surfaces effortlessly, minimising manual effort. Whether navigating tight corners or spanning larger areas, these wheels stand testament to the product's commitment to merging practicality with user convenience. With the Mobile Warehouse Steps, you're not just walking to the task; you're rolling towards efficiency.

Item Information
Constructed from rugged tubular steel; robust all-welded framework.
Platform height: 2000mm; working height approximately 3500mm.
Load capacity: 300kg on platform; tested for safety.
Hand-operated locking mechanism ensures unit stability.
Dual hand rails provided for one-handed access.
Features eight punched steel treads for effective water drainage.
Integrated 200 x 50mm wheels offer enhanced mobility.
Overall dimensions: 3000(H) x 850(W) x 1575(L) mm.
Each step supports up to 175kg; 550mm edge-to-edge sizing.
British-made; shipped directly from UK workshops.
Suitable for diverse settings: warehouses, shops, factories, food sectors.
Designed for easy cleaning: steam cleaning and pressure washing compatible.

Customer Reviews
---
How do you rate this product? Guidance:
Please focus on the item itself. Your review will be most helpful if you include the specific reasons why you either liked or disliked the item.
Try to be concise and straight to the point - but avoid single-word reviews.
---

Free Next Day Delivery
At The Workplace Depot, we believe in swift solutions that cater to the dynamic pace of modern businesses. That's why we're thrilled to offer free, next working day delivery for the Mobile Warehouse Steps. When you order before 3pm, we ensure that your steps are on their way, poised to reach your workspace by the very next day.
It's not just about selling a product; it's about delivering a promise. By choosing us, you're not only investing in top-tier equipment but also in a service that respects your time and operational needs. Dive into the luxury of next-day arrivals and experience the seamless blend of quality products and expedited delivery, only at The Workplace Depot.
Always At Your Service
At The Workplace Depot, we don't just sell products; we build relationships. Our exceptional customer support isn't just a service; it's a testament to our unwavering commitment to you. With our dedicated phone line, 0800 0126777, available every weekday from 8am to 5pm, we ensure that a helping hand or a listening ear is always just a call away.
Every query, concern, or feedback matters deeply to us. Our eager team stands ready, not only to assist with purchases but to ensure every aspect of your experience is seamless and satisfying. Dive into a shopping experience where support and care are paramount, only at The Workplace Depot.


Our Warranty, Your Peace of Mind
Shopping at The Workplace Depot is more than a transaction; it's an investment in confidence. We understand the value of long-lasting assurance, which is why we're proud to provide a comprehensive 1-year parts and labour warranty on our products. This isn't just a promise; it's our commitment to stand by the quality and reliability of what we offer.
In the dynamic world of business, having equipment you can rely on is paramount. With our warranty, you're not only getting top-tier products but also the safety net of knowing we've got your back for an entire year. Trust in our products, revel in our commitment, and experience true peace of mind, exclusively at The Workplace Depot.
Warranty
1 year parts / labour
Price Promise
We match any price
Easy Returns
Return or exchange