Mobile Steps with Platform
£308.79
Ex. VAT
£370.55
Inc. VAT
£370.55
Inc. VAT
£308.79
Ex. VAT
FREE DELIVERY
Free Delivery -
40-60 working days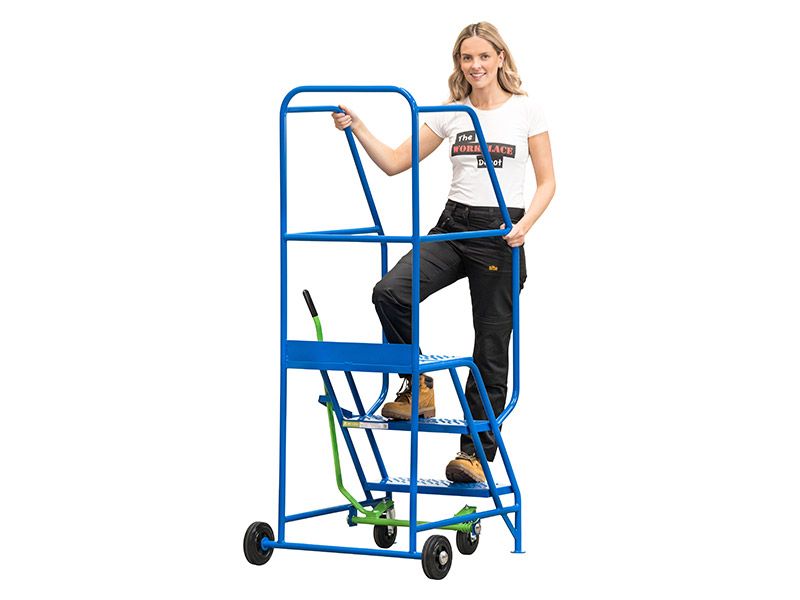 View All Safety Steps
Step up With Confidence
Elevated Work, Simplified: Meet the Mobile Steps with Platform, the ideal solution for safe access in warehouses, retail, and food industry settings.
Robust Build Quality: Made from durable tubular steel with a steadfast all-welded framework, ensuring long-lasting reliability and strength.
Reach New Heights Safely: Featuring a 750mm high platform, our steps provide a comfortable working height of 2250mm, making elevated tasks more accessible.
Strength You Can Trust: Each Mobile Step is rigorously load tested to 300kg, offering a robust platform that supports you and your equipment with ease.
Lock in Safety: Our hand-operated locking mechanism ensures the unit stays securely in place, providing stable and worry-free use every time.
One-Handed Access: Navigate upwards with confidence, thanks to handrails on both sides that allow for secure, one-handed climbing.
Tread Wisely: With three punched steel treads, water drainage is efficient, minimising slip hazards and enhancing user safety during operations.
Mobility Made Easy: Two integrated wheels (200 x 50mm) provide effortless mobility, making relocation smooth and strain-free across various floor types.
Designed to Fit: Dimensions of 1750(H) x 850(W) x 820(L) mm make these steps an optimal choice for diverse spaces without compromising on safety.

Elevate Your Work
In the world of step ladders, the Mobile Steps with Platform stands as a paragon of design and functionality. Crafted with precision from rugged tubular steel, its robustness is matched only by its innovative features. A testament to British craftsmanship, this ladder not only promises durability but brings a touch of industrial elegance to every space it graces.
Safety, versatility, and ease of use converge in this stellar unit. Whether you're manoeuvring through a bustling warehouse or navigating a retail floor, the Mobile Steps with Platform effortlessly adapts, offering unparalleled stability and mobility. With its comprehensive safety features and remarkable weight support, it's not just a tool—it's a game-changer in achieving new heights.
Strength in Structure
At the heart of the Mobile Steps with Platform lies its formidable foundation: rugged tubular steel. This material, revered for its unparalleled durability, ensures that the ladder remains steadfast, even under the most strenuous of tasks. The strength derived from this construction not only guarantees longevity but instils confidence in every step taken.
Beyond just its composition, the all-welded framework of the ladder amplifies its resilience. Welding, a technique that fuses pieces into a singular cohesive unit, boosts the ladder's structural integrity, ensuring it withstands daily wear and tear with grace. For the discerning professional, this means a tool that's as dependable as it is durable—a true testament to quality craftsmanship.


Reach New Horizons
The Mobile Steps with Platform is not just another step ladder—it's a conduit to elevation, both physically and in efficiency. With a platform height of 750mm, it seamlessly raises the user to an impressive working height of approximately 2250mm. This unique height advantage ensures that overhead tasks, often out of reach for conventional ladders, become effortlessly accessible.
However, it's not just about the reach; it's about the perspective. Working at this optimised height offers an unobstructed view of the task at hand, allowing for precision and focus. Whether you're in a warehouse adjusting high shelves or in a retail setting managing top-tier displays, this ladder empowers you to work with clarity and confidence, bridging the gap between you and those once hard-to-reach places.

Overall Dimensions
| | | |
| --- | --- | --- |
| | OVERALL HEIGHT | 1750 mm |
| | OVERALL WIDTH | 850 mm |
| | OVERALL LENGTH | 820 mm |
| | TREAD WIDTH | 590 mm |
| | PLATFORM HEIGHT | 750 mm |
| | PLATFORM WIDTH | 550 mm |
| | PLATFORM LENGTH | 400 mm |
| | WEIGHT | 26 kg |
Built for the Burden
In the realm of professional equipment, the true mettle of a product is often measured by how much weight it can bear—both literally and figuratively. The Mobile Steps with Platform surpasses expectations with its impressive load-bearing prowess. Meticulously tested, the platform can support a staggering weight of up to 300kg, establishing it as a heavyweight contender in its category.
Such a robust weight capacity is more than just a number; it's a testament to its design and durability. It means that whether you're stocking heavy items, performing intricate tasks, or simply require a stable base, this ladder remains unwavering. It offers peace of mind to its users, knowing that beneath them lies a platform built not just to meet but to exceed the demands of any professional setting.


Lock in Safety
Safety and stability form the backbone of any great ladder, and the Mobile Steps with Platform embraces this philosophy wholly. One of its standout features is a hand-operated locking mechanism—a deliberate inclusion aimed at ensuring each user can firmly secure the ladder in place. With this, you're not just climbing a ladder; you're stepping onto a steadfast platform designed with your safety in mind.
The beauty of this mechanism lies not only in its functionality but also in its simplicity. No need for complex procedures or additional tools; with a swift hand movement, the unit is locked and ready. This ensures that whether you're ascending or working from the platform, the ladder remains immovable, providing a firm foundation. It's a testament to our commitment to combining user-friendly design with unmatched safety standards.
Grasp Confidence
Navigating elevated spaces requires more than just height—it demands trust in the structure supporting you. The Mobile Steps with Platform amplifies this trust by equipping its design with handrails on both sides. These rails aren't merely additions; they are lifelines that provide users with the confidence to ascend and work with just one hand, while the other remains securely anchored.
The significance of these dual hand rails extends beyond mere function. They symbolise a commitment to user comfort and safety. Whether you're reaching for a high shelf, performing a delicate task, or simply need that additional support, these rails are there to provide steadiness in every move. It's a design that acknowledges diverse user needs, ensuring that each step taken is both safe and self-assured.


Stay Dry, Step Safe
In environments where water exposure is common, the last thing one needs is a slippery ladder. The Mobile Steps with Platform is a stride ahead in this aspect. Thoughtfully designed with three punched steel treads, it ensures that any water is efficiently drained away. This eliminates pooling, providing a dry and safe surface for users every single time.
The brilliance of this feature is in its foresight. Recognising the potential hazards of accumulated water on a working platform, the inclusion of these drainage-permitting treads is a proactive approach to safety. Whether you're in a moist workshop, facing unexpected spills, or working outdoors, these treads act as guardians—ensuring your steps remain stable, and the risks of slips and falls are drastically minimised.
Smooth Transitions
In dynamic workplaces, the need to swiftly shift equipment is paramount. Understanding this, the Mobile Steps with Platform is ingeniously equipped with two integrated 200 x 50mm wheels. These aren't just any wheels; they're designed for smooth transitions, ensuring that relocating your ladder becomes a hassle-free, almost effortless task.
The value of this feature lies in its commitment to user convenience. Environments like warehouses, retail spaces, or workshops require constant adaptation, and having a ladder that can be moved seamlessly becomes a significant asset. With these robust wheels, the ladder not only provides the height and stability one seeks but also the agility to adapt to ever-changing scenarios.

Item Information
Constructed from rugged tubular steel with an all-welded framework
Platform height: 750mm, working height: approximately 2250mm
Load-tested platform supports up to a hefty 300kg
Hand-operated locking mechanism ensures the unit stays in place
Dual handrails provided for secure one-handed access
Three punched steel treads facilitate effective water drainage
Mobility ensured with two integrated 200 x 50mm wheels
Dimensions: 1750(H) x 850(W) x 820(L) mm
Maximum step weight capacity: 175kg
Step size measures 590mm from edge to edge
Non-slip feet ideal for low-friction surfaces
British-made, shipped directly from a UK workshop

Customer Reviews
---
How do you rate this product? Guidance:
Please focus on the item itself. Your review will be most helpful if you include the specific reasons why you either liked or disliked the item.
Try to be concise and straight to the point - but avoid single-word reviews.
---

Free Next Day Delivery
At The Workplace Depot, we understand the urgency of equipping your workspace with the best. That's why when you order the Mobile Steps with Platform before 3pm, we ensure it's on its way to you the very next working day. It's not just about selling a product; it's about delivering excellence, promptly.
Our commitment to speed is paralleled only by our dedication to customer satisfaction. Enjoy the luxury of next-day delivery to mainland Great Britain, all on the house. When you choose us, you're not just buying a product; you're investing in a service that values your time and trust. Make your purchase and watch us spring into action!
Always At Your Service
We believe in more than just selling products; we're in the business of building relationships. That's why our dedicated phone line, 0800 0126777, stands as a testament to our unwavering commitment to you. Whether you have a question, need guidance, or just want to share feedback, we're here, eager to listen and assist, every weekday from 8am to 5pm.
Our renowned customer support is not just a service—it's a promise. A promise that whenever you reach out, you'll find a team passionate about ensuring your needs are met, and expectations surpassed. With The Workplace Depot, rest assured you're not just another customer; you're a valued member of our community, deserving of exceptional care and attention. Every call, every time.


Our Warranty, Your Peace of Mind
With The Workplace Depot, your purchase is just the beginning of our commitment. Every product, including our coveted Mobile Steps with Platform, comes backed by a robust 1-year parts and labour warranty. It's not merely a guarantee on paper; it's our pledge, assuring that the trust you place in our products is met with unwavering confidence in their longevity and performance.
Choosing us means choosing security, as we intertwine quality with accountability. While we pride ourselves on offering top-tier products, we also understand the importance of post-purchase support. Our 1-year warranty is a testament to this understanding, ensuring that every time you shop with us, you're not only investing in superior products but also in lasting peace of mind.
Warranty
1 year parts / labour
Price Promise
We match any price
Easy Returns
Return or exchange