4 Door Locker
£138.01
Ex. VAT
£165.61
Inc. VAT
£165.61
Inc. VAT
£138.01
Ex. VAT
FREE DELIVERY
Free Delivery -
2-3 weeks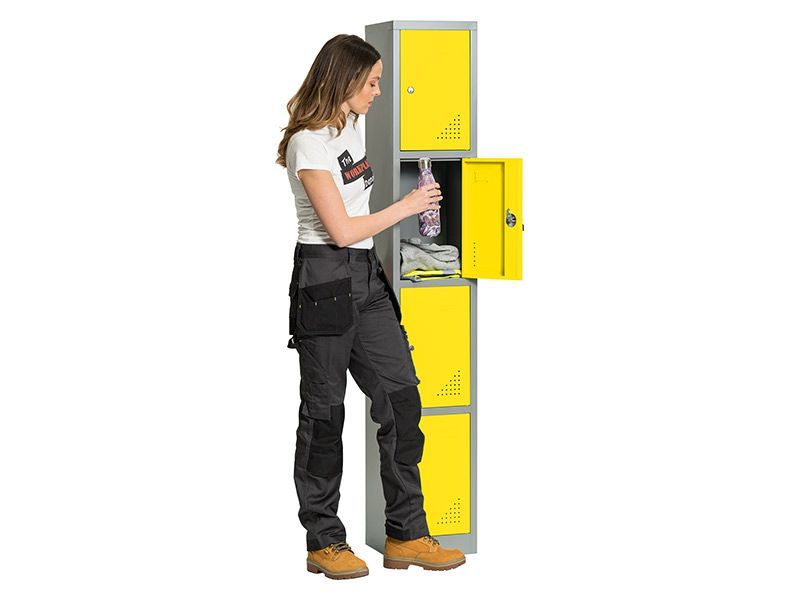 View All Metal Lockers
Guarded Goods, Graced Interiors
Efficient Storage Solution: Robustly designed 4 Door Locker, ideal for securing personal items in spaces like schools, gyms, and workplaces.
Solid Steel Construction: Made from reinforced steel, ensuring long-lasting durability and strength against daily wear and tear.
Resilient Finish: Coated with corrosion-resistant powder paint, this locker maintains its fresh appearance, even in challenging environments.
Ventilation Feature: Integrated air holes in each door promote airflow, keeping stored items fresh and free from moisture damage.
Perfectly Sized: Each of the four doors opens to a space ideally sized for shoes, headwear, and smaller belongings, optimising your storage needs.
Stylish and Practical Design: A sleek light grey frame paired with vibrant yellow doors adds a modern touch while ensuring practicality in various settings.
Enhanced Security: Doors reinforced against vandalism and twisting, offering added protection to your belongings.
Secure Locking Mechanism: Each locker features key cam-locks, supplied with two keys for secure and convenient access.
Compact Dimensions: Measuring 1800(H) x 300(W) x 300(D) mm, this locker is designed to fit seamlessly into various spaces without taking up excessive room.

Unlock Superiority
In an era where security meets sophistication, the 4 Door Locker stands as a testament to unparalleled craftsmanship and design. Constructed with precision from high-quality reinforced steel, this locker promises not just durability but also an aesthetic charm that elevates any setting.
Offering a unique blend of functionality and style, its integrated ventilation ensures freshness for stored items, while the chic combination of light grey and vibrant yellow doors exudes modern elegance. Whether it's safeguarding personal belongings or enhancing room aesthetics, this locker serves as the quintessential solution for storage with grace.
The Power of Reinforced Steel
The very essence of the 4 Door Locker's resilience is rooted in its construction from reinforced steel. This material is renowned for its incredible strength and durability, ensuring that the locker remains steadfast against the test of time and daily wear. The solid foundation provided by the reinforced steel guarantees a storage solution that's both robust and reliable.
Furthermore, the reinforced steel not only serves a functional purpose but also instils confidence in its users. Knowing that personal belongings are housed in a structure of such caliber offers unparalleled peace of mind. It's not just about storing items; it's about safeguarding them with the best in class.


Enduring Elegance
When it comes to the 4 Door Locker's appearance, the durable powder paint finish is its unsung hero. This specialised coating doesn't just confer a sleek and modern aesthetic but also acts as a formidable barrier against environmental adversaries. It's a finish that promises to retain its lustre, resisting chipping and fading, even in demanding environments.
Beyond mere aesthetics, the choice of powder paint as a finishing touch speaks to a commitment to longevity and quality. The paint ensures the locker is safeguarded from the onset of corrosion, offering an added layer of protection against wear and tear. It's more than a finish; it's a pledge to enduring beauty and function.

Overall Dimensions
| | | |
| --- | --- | --- |
| | OVERALL HEIGHT | 1800 mm |
| | OVERALL DEPTH | 302 mm |
| | OVERALL WIDTH | 300 mm |
| | WEIGHT | 14.4 kg |
Breath of Freshness
In the realm of thoughtful design, the 4 Door Locker's integrated door air ventilation holes are a game-changer. These strategically placed openings ensure a consistent flow of air, allowing belongings inside to remain fresh and odour-free. It's a feature that silently combats dampness and potential mould, ensuring that the contents remain as pristine as the day they were stored.
But these ventilation holes are not just about function; they underscore a deep understanding of user needs. Recognising that storage is more than just stowing items away, it's about preserving their integrity and freshness. With this locker, users can be assured of a storage solution that cares as much about their belongings as they do.


Optimised Storage
The genius of the 4 Door Locker is evident in its meticulous design tailored to everyday needs. Each of the four units is perfectly sized, providing an optimal storage space for shoes, headwear, and those smaller personal items that often need a dedicated spot. It's a calculated approach, ensuring that each compartment offers the right balance of space without overwhelming or under-serving its purpose.
Delving deeper into its significance, this design choice amplifies the locker's versatility. Whether for a household looking to declutter, a gym goer needing a space for workout gear, or an office worker stowing away daily essentials, the four-door design encapsulates the essence of thoughtful storage. With this locker, every item finds its rightful place, enhancing organisation and accessibility.
A Symphony of Shades
At the intersection of practicality and panache stands the 4 Door Locker with its harmonious colour scheme. The clean, light grey frame acts as a neutral canvas, exuding a minimalist charm and effortlessly blending with varied surroundings. This muted backdrop is then punctuated by the stylish yellow doors, adding a splash of vibrancy and contemporary flair to the mix.
This colour choice isn't just about aesthetics, though that alone is compelling. The contrast between the calm grey and vivacious yellow aids in easy identification, making the process of locating stored items smoother. Moreover, the palette has been selected to evoke feelings of positivity and freshness, enhancing user experience and seamlessly elevating any space it inhabits.


Unyielding Guard
The integrity of a locker is often defined by the strength of its doors, and the 4 Door Locker sets an unparalleled benchmark. Equipped with vandal and twist-resistant reinforced doors, it offers a fortress-like safeguarding for stored items. These doors are meticulously crafted to withstand the most robust action, ensuring they remain unyielding in the face of deliberate tampering or accidental rough handling.
The significance of this feature goes beyond mere physical resilience. In environments where security is paramount, such as shared spaces or public areas, the reinforced doors act as a deterrent to potential mischief-makers. They not only protect belongings inside but also instil a heightened sense of trust and peace of mind in the user. With these doors, the locker stands as a bastion of reliability and safety.
Dual-Keyed Security
At the heart of the 4 Door Locker's commitment to security lies its key cam-lock system. Precision-engineered, each locker is issued with a set of two keys, allowing users seamless access while maintaining an unwavering shield against unauthorized entry. This lock type, known for its robustness, ensures that once sealed, your belongings remain ensconced in safety.
The provision of two keys not only offers a backup in case of misplacement but also subtly underscores the locker's dedication to user convenience and peace of mind. In bustling environments, where time is of the essence and security a paramount concern, this dual-key feature serves as an emblem of both practicality and forethought. With the 4 Door Locker, rest assured your essentials are locked in trust.


Flexibility at its Finest
One of the standout features of the 4 Door Locker is its inherent adaptability. Designed with versatility in mind, each unit can either stand proudly on its own or seamlessly nest alongside fellow lockers. This modular design enables users to curate their storage solutions, be it a singular unit for a compact space or a clustered arrangement for expansive storage needs.
The ability to nest means more than just spatial convenience; it symbolises the locker's commitment to evolving with its user's requirements. Whether catering to the growing needs of a bustling workplace or accommodating the dynamic storage demands of a household, the 4 Door Locker's design ensures scalability without compromising on cohesion or aesthetics. It's a solution tailored for today, with the foresight for tomorrow.
Item Information
Constructed from high-quality reinforced steel for unmatched durability.
Finished with corrosion-resistant powder paint ensuring longevity.
Dimensions: 1800(H) x 300(W) x 300(D) mm - optimal for diverse spaces.
Stylish design: light grey frame paired with vibrant yellow doors.
Features integrated door air ventilation holes for freshness.
4 door units ideal for shoes, headwear, and personal items.
Vandal and twist-resistant doors ensure lasting pristine condition.
Equipped with reliable key cam-locks for enhanced security.
Each locker includes two keys for convenience and backup.
Suitable for individual use or nested configurations for expansion.
Perfect for hygiene-critical establishments like hospitals or restaurants.
Budget-friendly choice blending durability with aesthetic appeal.

Customer Reviews
---
How do you rate this product? Guidance:
Please focus on the item itself. Your review will be most helpful if you include the specific reasons why you either liked or disliked the item.
Try to be concise and straight to the point - but avoid single-word reviews.
---

Free Next Day Delivery
At The Workplace Depot, we understand the exhilaration of instant gratification. That's why we've tailored our service to mirror this very sentiment. Place your order for the 4 Door Locker before 3pm, and experience the delight of having it at your doorstep the very next working day. It's not just a delivery; it's a promise of punctuality.
The allure of our 4 Door Locker is now paired with the luxury of swift acquisition. Say goodbye to long waits and embrace the convenience of our unparalleled delivery speed. When you shop with us, every tick of the clock reaffirms our commitment to bringing your desired product closer, faster. Dive into the future of online shopping, today.
Always At Your Service
There's an unmatched warmth in a real-time conversation, a reassurance in a human touch. At The Workplace Depot, we've woven these values into the very fabric of our customer support. Dial our dedicated phone line, 0800 0126777, any weekday between 8am and 5pm, and you'll find a ready ear and a helping hand, eager to address your queries and ensure your satisfaction.
Our commitment isn't just to provide top-tier products like the 4 Door Locker, but also to guarantee a seamless shopping experience. Behind each call is a team trained in empathy, product knowledge, and problem-solving, ensuring you always leave with clarity and contentment. With The Workplace Depot, you're never just a customer; you're a valued member of our community.


Our Warranty, Your Peace of Mind
In a world where purchases often come with a fleeting sense of satisfaction, The Workplace Depot offers a lasting commitment. Each product, including our acclaimed 4 Door Locker, is enveloped in our 1-year parts and labour warranty. It's not just a guarantee; it's our testament to the enduring quality and the confidence we hold in what we offer.
Shopping with us transcends the transactional. It's a journey into a realm where trust and tranquillity reign supreme. Every time you choose The Workplace Depot, you're choosing the serenity that comes with the safety net of our warranty. A pledge that for a whole year, your investment is protected, your concerns addressed, and your peace of mind prioritised.
Warranty
1 year parts / labour
Price Promise
We match any price
Easy Returns
Return or exchange