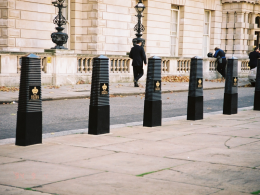 You may have heard the news story about the gentleman who, in order to brighten up his day, decided to climb inside a traffic bollard and then inevitably got stuck inside, resulting in the police being called to help pull the man out of the bollard. After this strange occurrence, we would like to take a closer look at bollards and discover that there is more to the humble bollard than meets the eye.
Bollards of all shapes and sizes line our streets up and down the country and have become an overlooked feature of society and of the urban landscape. They are used to separate pathways, divide roads and as traffic calming measures in city centres. But a bollard is not chosen solely because of its purpose, there are many other considerations that concern the urban surroundings which determine why and where a bollard is used.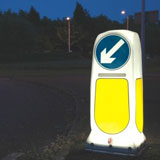 Any street furniture, including bollards, bins and benches, has to be approved in correspondence to the heritage guidelines in place for a specific space. It is important that we attempt to preserve the heritage of an area and try to create a certain sense of place. By adhering to the style of the zone and using appropriate street furniture, the sense of place and its history can be preserved for future generations. These types of areas are categorised by English Heritage as Conservation Areas. Conservation Areas are often historic towns and cities, but they can be any area of historical importance. There are strict rules in place surrounding property development in these areas that range from adding an extension to the property to installing a satellite dish. These restrictions also stretch to what type of street furniture can be installed in the zone. For example a large industrial bollard would not be allowed in a heritage zone that featured lots of old, historic buildings, however a bollard with a classic design in dark colours would be.
A bollard such as the Colchester Bollard is one which would be perfectly suited to a heritage area containing a number of listed buildings, due to its classic, sleek and black design. Similarly, the Sunderland Bollard has a classic and historic design so not to detract from the heritage environment and to help create a historic sense of place. Whereas a Deansgate Bollard has a more modern image, and would be more appropriately used in city centres and shopping areas or near roads for traffic calming. The names of many bollards, including the ones mentioned, are all named after places in the UK. There is some dispute about why this is so, but it is commonly believed that in the past, products were named after where they were manufactured and therefore, this is why the different bollards share their names with UK cities.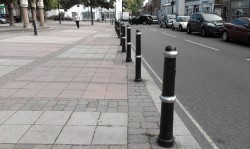 These bollards may look old-fashioned and fit in exactly with the local character of an area, but their structure and make-up is very modern and durable. Each bollard has an inner steel core and is covered in a polyurethane paint so they will not rust or corrode at all. This covering also makes the bollards chip and weather resistant and generally low maintenance.
Preserving our country's history is essential. By bringing the past into the present it will forever remain in the future. The history and heritage that is all around us in our everyday lives is an educational tool for what a place was once like and by taking a closer look at our surroundings, we can learn a lot about our heritage. By maintaining an appropriate sense of place in our towns and cities by using suitable street furniture, we can bring the history into the present day.
To see our entire range of bollards, click here.
---
Posted in Product Updates