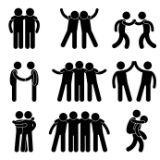 As its Monday, we thought we would start the week off with a bit of a cheery one. You may have noticed that we like raising knowledge of National Awareness days and today is no different. In fact we are stretching to a whole month of awareness and it's one that can be applied to everybody.
September marks National Friendship Month and it is believed that recognising having a supportive circle of friends not only makes you feel happier, but healthier too.
This being said, as we spend a large percentage of our time at work, it is important that we maintain friendly relationships with our colleagues as well as our friends outside of the workplace for a happily balanced lifestyle.
Making Friends at Work
There are a number of ways in which this can be achieved, for example through team building exercises that we have touched on before in a previous blog post: Creativity in the Workplace – Team Building, however types of activities such as ice breakers and team days out are mostly at the discretion of the boss, so depending on if they are feeling generous, fun days don't tend to happen very often in the everyday workplace!
On the other hand, if you are just looking to talk to someone new at work; maybe you have recently started and haven't quite got round to a conversation with one person, or you might just be in the mood to talk to someone different but you don't know what about, we have discovered a list of office conversation starters – problem solved.
Most of them are clichés, but they work, honest!
Even if it is Monday, the weekend is a great starting point for conversation as you can discuss the previous one, any day past Tuesday and you can start asking about upcoming weekend plans – before you know it, you might be invited to the party your colleague could be throwing!
The latest news is a good way to get to know your colleagues better, as you can start to understand what they might be interested in. Say for example you bring up the latest political controversy and they shrug it off, the most recent celebrity scandal or what the football scores were that weekend might be more up their street; you can then start to decipher your common interests.
Maybe you are going on holiday soon and want to share this with anyone who will listen, perhaps by sharing this with an unfamiliar colleague they will share their past or upcoming holidays, who knows, you might have visited the same place!
Similarly to this, public holidays such as Christmas and Easter are good excuses to find out people's plans and get to know them better. They are also useful to engage in conversation over when you return from work 5 pounds heavier.
Obviously, if none of these work, consider the classic: "Interesting weather we have been having isn't it?" This conversation opener has surely seen the start of many friendships!
Finally, if you still really want to talk to someone at work but you're just not certain on how to approach them, you can't go wrong with something work related. For example, consider discussing new products or features you might have noticed on your company website: "Have you seen the new features on the lockers page?" This has been shamelessly used here at The Workplace Depot in the web department to inform our colleagues in other areas of the business what we have been up to recently!
As a result of something as small as this, you might get to discover a bit more about what your fellow employees actually do every day, which is always useful in the long run; imagine introducing your work colleague to your friends outside of work and being unsure of their job title… Awkward.
Raising Awareness - Friendship Month
Understandably you can't force particular friendships, but this doesn't mean you don't like some people, it just might simply include having nothing in common. Nonetheless instead of shrugging past the idea of talking to someone you wouldn't normally, consider National Friendship Month as a tool for spreading happiness, even if you don't engage in conversation with someone, a smile doesn't cost anything and you could brighten up their day!
With this in mind, National Friendship Month has stemmed from a group named The Oddfellows, who stage hundreds of events in towns and cities to re-connect those who are feeling lonely or excluded from other people. As part of a scheme to remind people the importance of friendship, some of the events that are put on include coffee mornings, friendship walks and local trips. As a result, the scheme, which has been running since 2010, has been gaining momentum through publicity and has therefore become extremely beneficial for people in local communities.
Consequently, some people who would benefit greatly from becoming involved in this project might be unaware of its existence, so it is important for people and businesses to encourage these organisations and continue to raise awareness for great causes.
For more information regarding The Oddfellows and how to become involved, visit their website.
Let us know the conversations that go on in your workplace, or some suggested popular topics that might be responsible for the formation of friendships, which we might not have covered here, on either of our Facebook or Twitter pages.
---
Posted in Office, In the Community