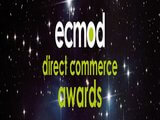 Great news this week... we've been shortlisted for the 2016 ECMOD Awards.
The ECMOD Direct Commerce Awards have been established in 1998. Year after year they have increased their reputation and now represent a "must attend" for anyone in the retail industry.
This is the first year we have been involved with the ECMOD Awards and are honoured to be amongst some of the big brand names taking part this year:
Lakeland
The Royal British Legion
Virgin Experience Days
Watco
Seton UK
This years' awards will be taking place tomorrow, the 2nd of June at the Hurlingham Club, London.
You can follow us on Facebook and Twitter. We'll make sure to post live updates from the awards, and of course, the results.
For more information, contact:
Diana Rusu
t: 01949 836622
w: www.theworkplacedepot.co.uk
a: The Workplace Depot, Miller House, Moorbridge Road, Bingham, Notts, NG13 8XB.
---
Posted in News