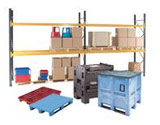 Good storage is a very important part of your home and also your workplace. Storage can make a room look a lot bigger as it can seriously reduce the amount of clutter on show. This results in a more welcoming and relaxing living environment that people enjoy spending time in.
Storage can come in a large variety of colours, shapes and sizes and can fit into whatever design or style of room you are looking for. Whether you want a modern, simplistic design, an older fashioned look, or a bright and colourful style, you can find something that will fit perfectly into your home. Below is a short guide to some of the best storage ideas that could benefit your home.
Wall Storage
Wall storage is one of the best options, particularly in rooms that have a high ceiling as it takes advantage of the space. There are a variety of different types of wall storage available, from a straightforward shelf to a Volani wall system. BoConcept have some very unique wall storage ideas and products on their website and are a particular favourite of mine.
Volani is a horizontal wall storage system that is made up of a series of closed cabinets with a very smooth and modern design. They do not have handles and are fixed freely to the walls.
You may also want to consider a Lecco wall storage design. This is a shelving system that is open and which means everything stored on the shelves is permanently visible.
Finally there is also the Fermo wall storage. This is a slim and long storage cabinet that stands against the wall which is particularly useful for storing media devices.
Bookcases
Another of the best storage ideas is a bookcase. Bookcases can fit into practically any room in the home, but usually work best in the lounge or office area. This is a great way of storing your books, DVDs and CDs in a tidy way.
Storing your DVDs on a bookshelf is particularly good because it means that they are constantly on show and within easy reach. This is very beneficial when people come round for film night, as everyone can easily see the DVDs that are available; although it might not help you make a decision about what to watch!
Under Storage
Finally, another useful form of storage is the under-bed option. This is storage that usually goes under the bed or sofa. This can be flat storage on wheels or simply boxes that slide on the carpet or wooden floor under your other pieces of furniture.
This kind of storage is very good for things like bedding or shoes. It is also a relatively cheap form of storage that keeps things out of the way and not visible resulting in a less cluttered and tidier room.
To Sum Up
Above are just 3 of the best storage ideas that can really benefit your home. Whatever you need to put away, there is an ideal means of storage for you that will fit perfectly into the style of your home.
---
Posted in Storage, Expert Commentary