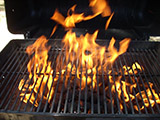 It might just be a pleasing coincidence, but this upcoming bank holiday (25th May) falls on the same day that National BBQ Week in the UK begins.
In my opinion, the second bank holiday that we are fortunate enough to have in May officially signals the start of summer; we are heading towards the middle of the year and finally some warm, sunny weather is paying a more frequent visit!
With this in mind, it might be time to start considering, particularly if you are a business owner of a pub/restaurant or outdoor area, whether you need to whip your beer gardens in to shape and dust off the BBQ for some bank holiday fun in the sun.
This year marks the UK's 19th National BBQ Week (yes this has been a thing for the past 19 years!) commencing between 25th May and 31st May and with around 5 million BBQ's being held across the week in the previous year, if the rain makes a swift exit and the sun starts shining we will probably see this increase this year!
Although a BBQ might be a bit of fun in the sun, there are actually some interesting facts surrounding BBQ's that include more than providing us with delicious food!
BBQ's are the UK's number one summer home leisure activity, with two-in-three households now owning a BBQ
Consumers will spend on average £35 on food and drink for a BBQ, up from £17 around five years ago
Built-in BBQ's and patio areas are now being built-in to new build houses as incentives to buy!
Pre-planned BBQ's have decreased by almost 50% since 2002, as mid-week and after work BBQ's become more popular and are therefore more casual
More recently, people are experimenting with foods such as fish on the BBQ, rather than just sausages and burgers
In 2013, the UK was Europe's leading BBQ nation, hosting over 125 million!
On average, 9 BBQ's are held by families in the summer, as opposed to just 2.5 ten years ago
Americans and Australians love to BBQ, using their grill on average 5 times a month
Although BBQ's have been traditionally held in summer (in the UK it rains during every other season!) 24% of us now have them during Spring when we can, with a further 15% claiming to host them all year round – I hope they have their umbrellas prepared!
Fire up the Grill
If some of these facts are making you want to host your own BBQ, dust off the grill and get it fired up! Make sure your potential customers are aware if you are holding a bank holiday BBQ next week by presenting your venues well.
Some bits and bobs you might need to spice up your BBQ bash include:
Without taking too much excitement away, remember that if you are hosting a BBQ, you should take health and safety in to consideration. As well as ensuring that the fundamentals are taken care of, such as keeping raw and cooked meats separate and washing hands before handling food, don't forget that with a BBQ comes fire and young children around the BBQ could mean potential hazards. A first aid kit would be handy to have nearby in case of any incidents, as well as a fire blanket in order to prevent the spread of a possible fire.
If we have succeeded in convincing you to throw a BBQ in the near future, please let us know on either of Facebook or Twitter pages; whether you are hosting one at a venue or simply in your back garden, we hope you enjoy!
---
Posted in News