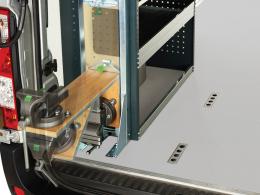 Suitable for use with Van Service Case and Van Shelving Module Fold...
3 variants of this product...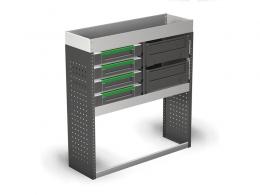 Service case / tray module High quality construction Perforated en...
1 variant of this product...
Van Racking
What Is the Purpose of Van Racking?
When someone works out of their truck or van, they are going to need shelves to keep all of their tools and accessories organized. Our van racking allows people to do this and also to keep the tools in place on the road. There are times when a person will accidentally hit a pothole or drive on bumpy roads, and they don't want their tools to be flying around in the back of the van. A van rack can be secured to the floor of a van with bolts so that it doesn't slide around and also keeps the items secured in the shelves. Having multiple shelves in the back of a van also allows a worker to keep track of their accessories and tools with ease. The racks can be labelled if the van is going to be used by multiple people so they can easily locate the things they are looking for. We also offer racks with both drawers and traditional shelves. This makes it easier to keep track of smaller items that may bounce around when driving down the road because they can be kept in the drawers.
Where Can Van Racking Be Used?
These racks are going to be used in someone's work van only. While it's possible to make use of these racks elsewhere, they are best used in the back of a vehicle because they can be secured to the walls and floor easily. We have other racks that are better for office and workplace situations available for those who just need somewhere to keep a shelf or rack at home or work. However, for mobile purposes, our van racks are unbeatable. They are durable and will last for a very long time, and they will make it much easier for someone who works out of their van to get through the day.
Delivery / Warranty
Our van racks come with a one-year parts and labour warranty. They will also ship to a customer for free. We also offer a price match guarantee on our van racks.