Pallet Trucks With Scales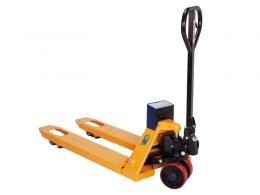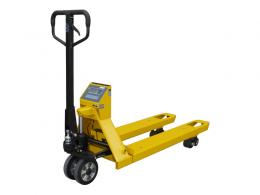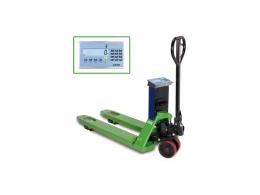 Pallet Trucks With Scales
All-in-one shipping and receiving lifter
Lifting the heavy pallets to transport and store them is a monumental job that can put stress and strain on the backs and legs of employees as well as leading to goods being damaged if not moved properly. Our pallet trucks are designed to alleviate the risk of injury by making it easy to lift and transport heavy pallets with ease. However, we've incorporated an excellent feature in our pallet trucks with scales, which allows you to weigh your cargo while lifting and transporting it at the same time.
This feature takes the guesswork out of just how much weight is being moved at one time and allows you to record it for billing and inventory purposes. It is an all-in-one shipping aid that makes doing the job that much easier, because it lifts the cargo, measures the weight for you to capture, then helps you move the load to wherever it needs to go. It's an extra step that now doesn't need to be taken, which continues to help you take any additional strain off of workers and the goods themselves.
Shipping and receiving dock dream
Pallet trucks with scales work wonders in warehouses, fulfilment centres, factories and even grocery and department store loading docks. Because of the addition of the digital scale, these will work well in just about any environment where loads are being delivered, moved and stored.
The pallet trucks with scales are also handy when taking a load onto a site that may have specific weight restrictions, like ships and airplanes. By being able to keep a record of what you are about to ship or transport, you can easily adjust as needed if it exceeds the requirements for that particular area.
Additional Benefits
Take a look through our stock of pallet trucks with scales to find the one that makes sense for your business. The digital readers are waterproof, which will allow you to keep reading the weights in any weather condition. All come with our 1-year warranty and we will match any price you may find that beats our own. It is our goal to make your life easier in the workplace and we are confident our pallet trucks with scales will add an element of efficiency that will make these a must for your job.