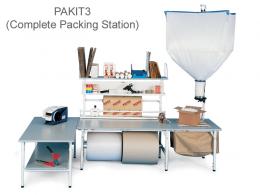 Packaging equipment to increase efficiency and output Items can be...
10 variants of this product...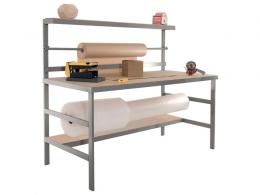 Packing station saves space and time packing goods Packing table av...
2 variants of this product...
Packing Benches
A successful business needs its customers to get the best impression from the outset. Well-packed goods will help ensure this. If your products are packed in a haphazard way, this is likely to tell in the packaging, and a poor impression will be created. Packing products for dispatch is time-consuming and arduous work, which needs to be well organised to ensure efficiency and the best possible condition packing. If badly organised, the process can eat up even more time from the working day, in trying to locate all the items needed. The Workplace Depot offers an excellent solution to any packing problems, with our packing benches which have been designed specifically for keeping packing operations straightforward and efficient. The Packing Station Complete model is hugely functional, with a place for everything. All you and your workforce need to do is make sure that, when not in use, everything stays in its place. The bench is available in a range of dimensions so we are confident you will find the right model for you. The Complete tidy table is also a highly practical solution, designed specifically to avoid confusion during the packing process and, in turn, save you money through the best use of time and limited loss of packing accessories. With a dual top shelf, under-shelf and toolbox, once this excellent packing bench is installed in your workplace, you won't look back. As with all The Workplace Depot products, quality, value for money and safety has been at the forefront of our selection process in choosing which packing benches to supply.