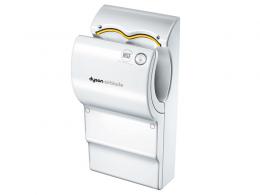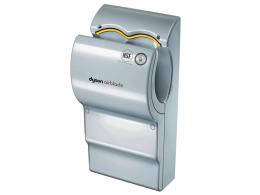 Hand Dryers
For washrooms in commercial buildings and businesses, you need an economical solution for hand-drying. Stocking your washrooms with paper towels is not only expensive; it is also hard on the environment and wasteful. Solve all of these problems by purchasing hand dryers for all of your public washrooms. They're also useful for employee washrooms, rest areas, and public washrooms where it just doesn't make sense to spend a lot of money constantly restocking paper towels for hand drying.
Poly Carbonate Dyson Airblade Hand Dryer – Grey and White
The Poly Carbonate Dyson Airblade Hand Dryer is a model that will save energy as well as money in the long run. It runs far more efficiently than regular warm hand dryers, using up to 80 percent less energy. Along with this, it uses technology that dries your hands in just 10 seconds – a high velocity sheet of air literally scrapes the water from your hands. An infrared sensor additionally detects whenever hands are placed underneath the dryer for touch-free operation. This hand dryer is made of durable polycarbonate material that will resist chipping and scratching, and it comes with an anti-microbial coating for additional protection from germs.
The Poly Carbonate Dyson Airblade Hand Dryer comes in two colours – grey and white. It's truly a sleek, efficient model that will help keep your washrooms cleaner, more hygienic, and free of discarded paper towels. It also helps keep paper out of landfills and saves more energy than using standard dryers.
Additional Benefits
The Workplace Depot's hand dryers come with free delivery within 5-7 working days, not to mention a standard one year warranty that also includes parts as well as labour. Order today and make your washrooms more environmentally friendly and efficient.