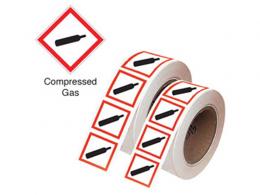 GHS Labels
The Globally Harmonised System of Classification and Labelling of Chemicals (GHS), is the international system that follows consistent criteria regarding the classification and labelling of chemicals.
Classifying hazards is very important within a working environment – it allows employees (and the public) to understand where and what the chemicals are; allowing them to take the necessary safety precautions before approaching them.
The GHS was created by the United Nations (UN) in 1992 after development began at the United Nations Rio Conference.
In the past there were numerous regulations in regards to hazard classifications across different countries, although they were similar, the differences caused multiple meanings to appear. With this in mind, a worldwide covering was decided.
If you are unsure about any of the legislation regarding the labelling of chemicals, click here, to visit the HSE website.
GHS symbols are put in place to enhance the protection of people and the environment. By putting these symbols in place, people can see where the harmful chemicals are, allowing them to put the right safety precautions in place before they go near them.
The symbols include:
Health Hazard
Compressed Gas
Explosive
Corrosive
Harmful / Irritant
Flammable
Toxic
Dangerous for the Environment
Oxidising
The GHS symbols are available in two variations:
GHS Signs; available in magnetic or self-adhesive