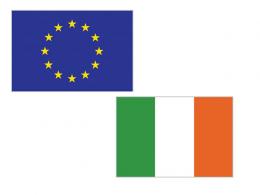 European Union (EU) & Ireland Landscape format Sewn woven polyeste...
6 variants of this product...
Flags
What is the purpose of a Flag?
Do you have a heritage you'd like to display proudly? Are you a business that wants to advertise your local colours? Do you simply want to fly your national flag proudly outside of your home or office? Fortunately, these beautiful flags are designed to help you fly your colours proudly. Perfect for home or corporate use, these flags are delivered for free and offer EU, Ireland, St. Andrew's, St. George's, Union Jack, and Welsh Dragon designs.
Where can this product be used?
These national flags are ideal for use outside of your flat, at the entrance to your business or in the courtyard of a building. If you don't have a flagpole on which to display your beautiful new flag, Workplace Depot offers those as well. Thanks to their sewn woven polyester construction, these flags will remain bright and beautiful throughout the seasons and promise to be the envy of the neighbourhood.
Who might use this product?
Ideal for families, individuals and businesses, these flags are meant to be used by anyone who wants to display national colours proudly. These flags come in 3 sizes, which means it's easy to choose one that is perfect for your space. Additionally, they are all oriented in landscape format which gives them a traditional look and helps customers make sizing and placement decisions. For your convenience, these flags are also sold with roe and toggles for placement on flagpoles.
Flags Specifications
These flags are traditionally purchased in yards, although metric measurements are provided for ease and accuracy. Each flag is made from sewn woven polyester and is ready to be mounted immediately in your position of choice. The flags can be delivered within 7-10 working days of purchase and feature a 1-year warranty that will cover most repairs the flag may need.